With a rich cultural heritage and vibrant atmosphere, Mexico City is one of the most fascinating cities in the world.
If you are planning a trip to Mexico City in 2023, there are plenty of amazing destinations nearby that you can visit to make the most of your trip. In this article, we'll tell you about 10 places to visit near CDMX, including historic sites, quaint towns and natural wonders.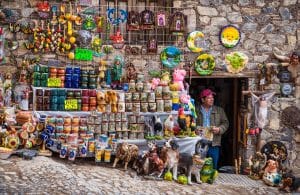 Malinalco
Two hours from CDMX is this town of indigenous roots that maintains the magic of pre-Hispanic Mexico and fuses its historical past through its cobblestone streets and colonial convents.
Its archaeological zone is one of the most relevant in the center of the country, with well-preserved ruins and temples where you can still feel the vibe of the ancient Mexica people who lived here. The pre-Hispanic city was built on top of a hill, so the panoramic views are incredible.
Malinalco is also home to hot springs and has a great tradition of homemade bread, so you can't miss a piece or two.
Valle de Bravo
"Valle", as we like to call it, is a picturesque Magic Town surrounded by lush forests and an artificial lake that make it the perfect place for a weekend full of adventure.
If you like adrenaline, here you can go water skiing, mountain biking, paragliding or hang gliding. In fact, it is one of the best destinations in Mexico for extreme sports.
Its beautiful colonial architecture and the delicious local food that can not be missing in any small town in Mexico, give it the charming touch that the chilangos (inhabitants of CDMX) like so much, as it is one of the most visited weekend destinations for us.
Valle de Bravo is located 2 hours from Mexico City.
Teotihuacán
Teotihuacán was once the largest and most important pre-Hispanic city in the country and today is one of the most known and visited archaeological sites.
This fascinating place is located just 1 hour from Mexico City and is home to some of the most impressive pyramids in Mexico, such as the Pyramid of the Sun and the Pyramid of the Moon. Without a doubt, Teotihuacán is a must-see for anyone interested in ancient civilizations and the history of Mexico.
To enjoy in a different way the fabulous architectural landscape of this ancient city, you can take a hot air balloon flight at sunrise. The views you will have are unparalleled!
Puebla
Puebla is a historic city located just over 2 hours from CDMX. It is known for its beautiful colonial architecture, including the famous Cathedral, and its rich cultural heritage.
Puebla's gastronomy is recognized as one of the best in the country, so during your visit, you can't miss a good plate of mole poblano, some chalupas, cemitas and for dessert the famous tortitas de Santa Clara.
If you visit Puebla, also go to Cholula (about 20 minutes away) to explore its Great Pyramid, which is recognized as the largest pyramidal base in the world, with 450 meters per side.
Cuernavaca
Just 1 hour from CDMX, Cuernavaca is a beautiful city known for its warm weather and lush gardens.
It is known as "The City of Eternal Spring" and is a favorite place to escape from big Mexico City and relax by a pool or spa.
You can visit several historical sites here, such as the Palacio de Cortés and the Cuernavaca Cathedral. You can also enjoy a stroll through the gardens at Jardín Borda or visit La Tallera, an art space founded by the famous Mexican muralist David Alfaro Siqueiros.
Tepoztlán
Shortly before arriving in Cuernavaca is the turnoff to Tepoztlán, a charming Magical Town located in the mountains.
It is famous for its exciting mix of indigenous culture, colonial architecture and natural beauty. In addition to strolling through its small streets full of craft shops and art galleries, you can't miss a visit to the Food Market to sample local delicacies such as itacates, tlacoyos, gorditas, quesadillas and tacos de cecina de Yecapixtla. Afterward, go for a traditional nieve to Tepoznieves, the snow of gods, as they call themselves.
If you have enough time and energy, climb the Cerro del Tepozteco. It will take about 40 minutes to reach the top, where you will find a pre-Hispanic temple dedicated to the god of pulque and fabulous panoramic views.
Huasca de Ocampo
Huasca de Ocampo is a small town located in the mountains of the state of Hidalgo. It is known for its beautiful natural landscapes and for being one of the few places in the world to have basaltic prisms, a type of polygonal-shaped columns resulting from a geological phenomenon thousands of years ago.
In Huasca, there are also waterfalls, ecotourism parks, haciendas, and an Elves Museum, as it is said that in its forests live elves and fairies.
Huasca de Ocampo is approximately 2 hours and 20 minutes from Mexico City.
Tequisquiapan
Tequisquiapan is a little farther away, 3.5 hours from Mexico City, but it is worth a visit if you have the time.
This town is located in the wine region of Querétaro, so you can visit wine cellars and do tastings accompanied by cheeses produced in the area.
It is also famous for its hot springs and picturesque cobblestone streets with restaurants, art galleries and colorful craft stores.
Taxco
Taxco is a town with a mining tradition of hundreds of years, so it is mainly known for its silver jewelry production.
It is also a beautiful colonial destination with fabulous architecture that can be admired in buildings, churches and museums. Its cobblestone streets are lined with silver workshops, family-run restaurants and handicraft stores.
If you go to Taxco, also take the opportunity to visit the Cacahuamilpa Caves (about 40 minutes away), an amazing series of caverns with whimsical rock formations.
Taxco is 2.5 hours from CDMX.
Nevado de Toluca
Finally, the beautiful Nevado de Toluca, one of the most spectacular natural sites near Mexico City.
The Nevado de Toluca is a volcano in the State of Mexico, about 2.5 hours from CDMX. This place is incredible for hiking and taking pictures of the landscape. Reaching the top is ideal for having the best panoramic views, but if you don't make it, staying somewhere else on the volcano will be a great experience with beautiful landscapes.
We recommend wearing comfortable clothes and shoes and bringing snacks and plenty of water. Any time of the year is a good time to visit the Nevado de Toluca, but in winter (between December and mid-February) it is covered with snow, giving it a special charm.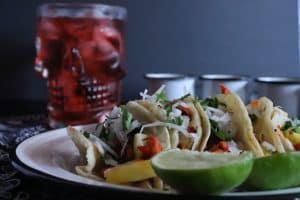 Mexico City is surrounded by many fascinating destinations, each with something unique and exciting to discover. Whether it's pre-Hispanic ruins, breathtaking landscapes or local culture, there are many exciting places to explore near CDMX in 2023.
At Barrio, we are waiting for you to offer the best lodging experience in the coolest hostel in the historic center of Mexico City. We are an ideal starting point to get to know the city, and we offer tours in and out of the city to experience our fascinating culture, traditions, and most interesting places.
See you soon!