If there's one thing Mexicans love to do, it's eating. Mexican food is simply delicious. Not for nothing, Mexican cuisine constantly appears among the lists of the best cuisines in the world of renowned publications such as Travel & Leisure and Condé Nast Traveler.
While we have truly impressive traditional dishes such as chiles en nogada, and mole (in its fabulous 7 varieties), the truth is that Mexican antojitos are simply irresistible and steal everyone's heart.
What are antojitos mexicanos? It is very casual, homemade food you can find in restaurants, but we mostly eat it in street stalls and markets. Tacos, flautas, sopes, huaraches, quesadillas, gorditas, tostadas… the list is huge!
The antojitos that are fried, we also call them "garnachas", and practically all of them are eaten with your hands.
If you want to know a little more about the Mexican antojitos that drive us chilangos crazy, keep reading because below, we will tell you about the main ones that you can find almost anywhere in Mexico City.
Tacos
Mexico and tacos are one and the same. You can find delicious tacos all over the country, but in each region, state and even town, they can be prepared with different meats or stews. For example, in Yucatán, cochinita pibil tacos are not to be missed, while in the north of the country, the asada tacos get the spotlight.
Here in CDMX, tacos al pastor (marinated pork) are the most traditional ones you'll find in every taquería. We also like steak, rib and suadero (all prepared with beef), and campechanos, which usually have a combination of beef and chorizo. These tacos are the ones that are everywhere.
More tacos we love are barbacoa (lamb or goat meat), carnitas (pork) and birria (goat or beef). You won't find these in every taquería, but they are commonly sold in markets and local restaurants specializing in one of these types of food.
An essential part of the taco-eating experience is the hot sauces (salsas). Any self-respecting taco should have at least a little salsa on top. In any taco place, you will find a good variety of salsas of different colors and levels of spiciness. In Mexico, we have more than 60 varieties of chiles, so each sauce can be prepared with a different type of chile.
In the universe of tacos, there are also the flautas, which are fried taquitos prepared with longer corn tortillas (hence the name "flautas" as flutes). We eat flautas with sour cream, lettuce and grated cheese. Of course, we also add a good portion of salsa, either red, green or guacamole.
Quesadillas
Quesadillas are a typical garnacha of Mexico City's street corners. If you are walking down the street and you see a food stand on a corner, they will likely sell quesadillas or sopes, which we will tell you about in the next point.
Quesadillas are like tacos but folded in half. They can be fried or grilled on the comal and are filled with any variety of ingredients and stews, such as cheese, shredded meat, pressed chicharrón, potato with chorizo, mushrooms, chicken tinga, etc.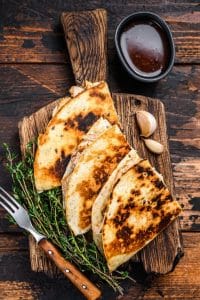 In Mexico, there's a curious controversy about quesadillas, which has turned into an amusing fight between "chilangos" (inhabitants of the CDMX) and the rest of Mexicans (from other states), because in CDMX quesadillas can go without cheese. But, in the rest of the country, they say this is not a quesadilla since they must have cheese, as their name indicates -queso: cheese.
No matter how they are prepared, in CDMX we love quesadillas in any form.
Sopes
Continuing with the corner antojitos, there are the sopes. These garnachas are prepared with corn dough (just like tortillas), and are formed into round forms like mini plates that are fried in lard or oil. Fried beans are spread on them, and ingredients such as meat, cheese and nopales are added.
A variation of sopes are huaraches, which are the same, but more elongated. Hence the name "huarache", which is a type of sandal characteristic of Mexican country life.
Both sopes and huaraches are topped with salsita, cream, grated cheese and chopped onions. A street delight that you must try!
Gorditas
After trying quesadillas and sopes, we also recommend you to try gorditas!
Gorditas are made with corn dough (what a surprise, right?) and are little balls that are flattened with their hands and filled with different stews or ingredients. The most popular ones are made of pressed chicharrón (pork meat), beans or requesón (a very soft cheese similar to ricotta). As you might suspect, we also top them with salsa, and they can have cream, grated cheese and chopped onion.
A variation of the gorditas are the tlacoyos, which are prepared and eaten similarly but have an elongated oval shape.
Generally, in the street stalls where gorditas are sold, they will also sell tlacoyos.
Tostadas
It's the turn of tostadas which, in the land of corn, are obviously also prepared with this millenary ingredient.
Tostadas are fried tortilla that has become hard, so ingredients and stews (almost the same as in quesadillas) can be added on top, as well as cream, grated cheese and salsa.
Tostadas without ingredients, only the fried tortilla, are also the accompaniment of other Mexican dishes such as pozole and pancita, which are broths with meat and various other ingredients.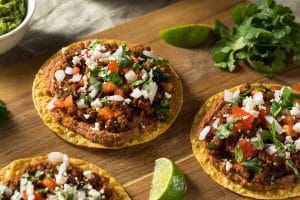 Our mouths are already watering with so many delicious antojitos. Of course, these are the main ones, but there are more delicacies you can find in the markets, street stalls and local restaurants of CDMX.
Which antojitos will you try during your visit to Mexico City? We recommend you try as many as possible to get to know firsthand the subtle differences between each one and the delicious flavors of the city's most homemade and street cuisine.
We hope you can visit CDMX soon, and we will gladly be waiting for you at Barrio, the coolest hostel in town! We have an incredible location in the Historic Center, and we are an ideal spot for you to try all the variety of garnachas that we chilangos love.
See you soon!